The perfect microphone for streamers
With exceptional sound and performance, the HyperX Quadcast S microphone is ideal for streamers, content creators and gamers. This condenser microphone delivers quality sound while its vibration-dampening stand reduces the disturbances of everyday life. Plus, attract attention with its customizable RGB backlight.The HyperX Quadcast S also features Discord and TeamSpeak certification, so you can be sure your audience will hear you loud and clear. Compatible with PC, PlayStation 4 and Mac, this microphone will work for everyone.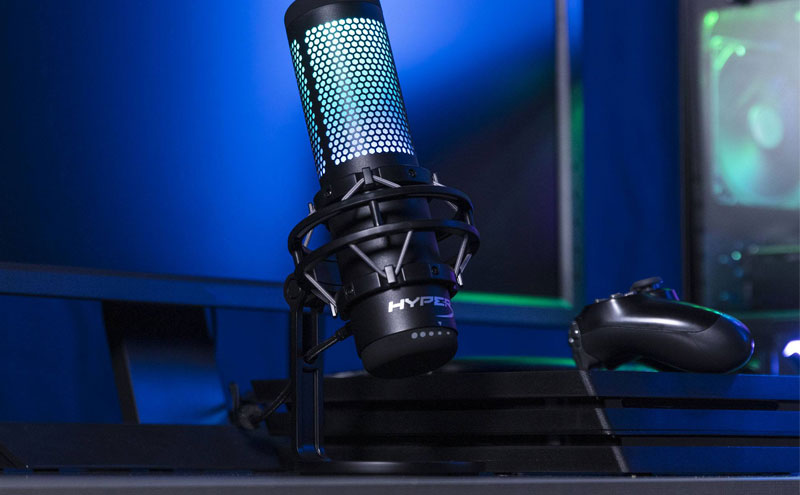 QUALITY SOUND
With the HyperX Quadcast S, you can be sure your listeners will receive incredible sound. That's because the microphone features a pop filter to reduce unpleasant percussive sounds, while the easily accessible gain control knob allows you to quickly adjust the microphone's input sensitivity. The microphone also features an LED indicator that constantly shows the status of the microphone to avoid mishaps during live performances.
The built-in headphone jack lets you monitor the microphone input, while the includedmounting adapter is compatible with 3/8″ and 5/8″ threads and can be mounted on most mic stands on the market.
VERSATILE RECORDING
The HyperX Quadcast S features four different setting modes for versatile recording capability:
Stereo mode: ideal for capturing a realistic, all-round sound image
Cardioid mode: suitable for podcasts, vocals, and other voices
Omni-directional mode: recommended for situations where you want to capture the general atmosphere
Two-way mode: ideal for capturing the nuances of a musical instrument or recording a conversation between two people