A Watercooling Kit with ARGB lighting and a 270 degree rotating block head.
The MAG CORELIQUID 240R V2 from MSI has everything you are looking for in a watercooling cooler. It combines quality materials that offer exemplary durability with highly efficient heat dissipation technologies. Users can even enjoy benefits such as ARGB lighting and a 270-degree rotating block head that is simple to use. On top of that, its CPU block boasts a unique irregular aesthetic that is both elegant and artistic. Every component of the MAG CORELIQUID 240R V2 is designed with one ultimate goal in mind: to provide your processor with efficient cooling without compromise.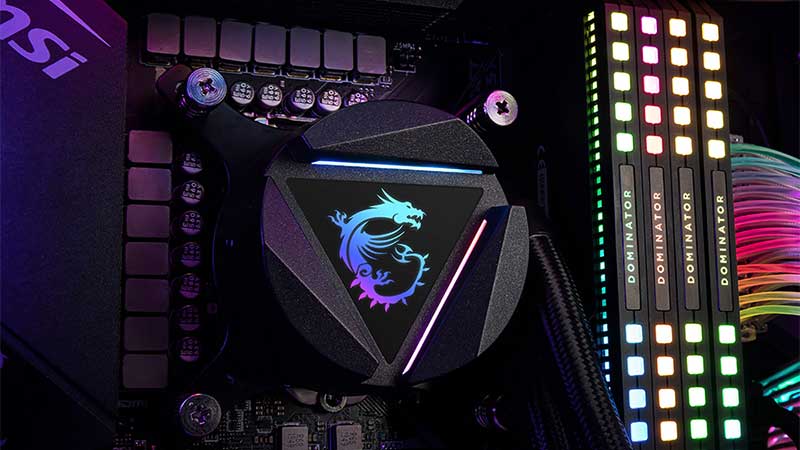 HIGH PERFORMANCE COOLING
Mount the CPU block in any orientation, rotate its head up to 270 degrees and hold it upright to achieve the impeccable look you want. The MAG CORELIQUID 240R V2 pump has been integrated into the radiator to dampen and reduce noise.
The MAG CORELIQUID 240R V2 has a durable three-phase motor at the heart of the pump that generates minimal vibration for long-lasting operation. For even greater efficiency, MSI has developed a split-path design that dissipates heat through the radiator quickly. The cooled liquid is then pumped back into the loop. For added reliability, the tubes are constructed with three layers of plastic mesh and a reinforced mesh exterior.
EXTENDED COMPATIBILITY
Connect and synchronise the MAG CORELIQUID 240R V2 with any MSI case with DIY 2.0 technology. Take advantage of strategically positioned pin locations, including a dedicated pump-fan header.
Rugged yet designed for flexibility, this MAG CORELIQUID watercooling kit has been designed with a secure installation kit, compatible with a number of Intel and AMD motherboards. It is compatible with Intel Socket and CPU Socket LGA 1150, 1151, 1155, 1156, LGA1200, LGA1366, LGA 1700, LGA2011, LGA2011-3, LGA2066 / AMD Socket AM4, FM2 +, FM2, FM1, AM3 +, AM3, AM2 +, AM2.